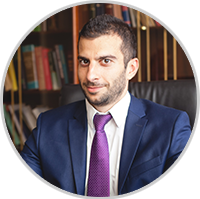 Constantinos Papantoniou
Partner, Advocate
Constantinos Papantoniou is an LLB graduate of the Democritus University of Thrace (DUTH) Greece.
He was admitted to the Cyprus Bar in 2013.
He also completed an LLM degree in International Commercial Law in Bournemouth University and holds a Copyrights Diploma from Harvard University USA.
He is a Member of the "CYPRUS ' UNION OF THE PROTECTION OF COPYRIGHT" which is member of ALAI.
Moreover, he is a member of the Bioethics Committee of Cyprus.
He succeeded in B1 level Russian language exams organised by Pushkin Institute of Athens. He thereafter spent 3 months in Moscow State University (MSU) and attended a language course for Intermediate/Advanced level.
He is also holder of book keeping and accounts level 2 diploma of LCCI.
He speaks Greek, English and Russian fluently.
His interests lie in Administrative Law, Intellectual Property Law, Land Law, Commercial Law, Corporate Law and Family Law. Employment Law.