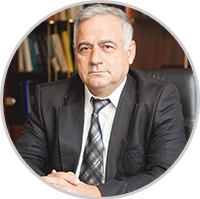 George Papantoniou
Managing Partner - the Founder of George Papantoniou & Co LLC
He is graduated from Aristotle University of Thessaloniki in Greece. He is a member of the Cyprus Bar since 1982. Mr. Papantoniou has a rich experience in several areas of law and he is involved in many Committees in Cyprus.
In particular he was involved as:
President of the Nicosia Bar Association for 6 years (2006-2012)
Secretary of the Cyprus Bar Association for 6 Years (2009 – 2015)
Member of the Bioethics Committee of Cyprus (2011-2015)
Member of the Council of Civil Engineering Contractors
Vice-President of the Appellate Court of the Cyprus Football Association (2012-2015)
Member of the Supervisory Authority of the Cooperative Institution – Business & Professional Sector.
He is now a member of the Independent Authority for the Investigation of Allegations and Complaints against the police, and a member of the Transplantation Council.
He is also a Committee member of the Board of Cyprus Bar Association and an Arbitrator for cooperative institutions (debts).
He has also been a speaker/panel member in various conferences and seminars in Greece.
He speaks Greek and English fluently.
His interests and experience lie in road traffic accidents, family law, land law, civil law, criminal law and administrative law.