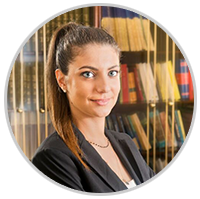 Elena Kazi
Advocate
Elena is a graduate with honours degree from the Law School of Southampton, England.
After her graduation, she worked as a Legal Advisor to private company in London in the Migration and Immigration Department, where she was in continuous cooperation with the Government Legal Department.
Then she worked at the Back Office & Compliance department of a Hotel Group in Southampton.
As at July, 2018 Elena is a Trainee lawyer at our Law Office.
She speaks fluent Greek and English and her interests are related to Civil Law, Family Law, Immigration Law and Privacy and Data protection.