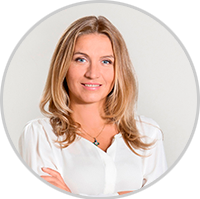 Liudmila Klim Hadjinicola
Associate Advocate
Liudmila Klim Hadjinicola graduated from the "Private Institute of Law" in Minsk, Belarus in 1998 with an honours diploma in Jurisprudence with specialization in Tax and Banking Law.
Upon her graduation and until 2000 she worked as a lawyer in both a Belarusian Bank and thereafter in a private company in Belarus.
In 2004 she had her diploma recognized/legalized in Cyprus and thus could join the Cyprus Bar Association where she was admitted in 2005 following her trainee legal practise and local examinations.
She worked for nine months as legal advisor to Cyproman Services Ltd, a fiduciary services company cooperating with KPMG.
During the period 2006-2018 she was a member of the legal team of Vision International People Group Public Ltd – a public company listed at Cyprus Stock Exchange, which was a holding company of an international group of companies with companies globally located and involved in the sale and distribution of a wide range of health care products, through a network of Distributors (MLM).
Last seven years she was assuming the position of the Group Legal Manager, reporting directly to CEO of the Group.
She was constantly involved with the Group's International commercial law matters, Group restructurings, E-commerce and E-contracts matters, Protection of Personal Data matters (GDPR), Trademarks and other IP rights matters, Employment and Corporate matters of the Group.
She is fluent in Russian (native), Belarusian, English and Greek.
Her interests and experience lie in Corporate law, Corporate Governance and Compliance, Intellectual Property Law, Commercial Law, Data Privacy Law, E-commerce, Family Law and Immigration (citizenship) Law.